Parties!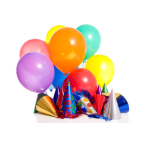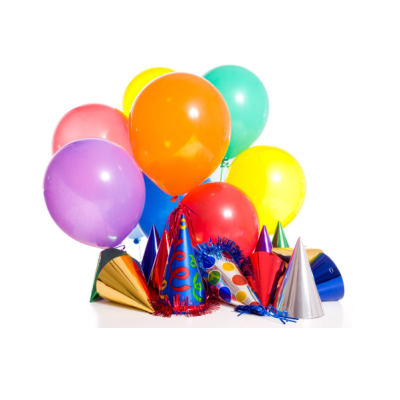 Scroll down for
Party Themes
Check Availability & Reserve Party!
Every Noggin Builders Party Includes:
• 1-½ hours of Noggin Builders fun with our experienced teachers!
• Up to 16 people included in base package!
• Customized .pdf invitations!
• Paper goods!
• All the set up and clean up — you just come and enjoy!
Base Price: $375*
Additional guests: $10 each
* Cupcake Wars, Candy Commotion, Top Chef and Amazing STEM Race are 2 hours in length; Base price $425 up to 16 and $12 per additional guest
Party Options
Party with Lunch/Dinner:
Choose from pizza, pasta, or bagels with cream cheese or turkey. Served with fruit, side and a drink.
Adds 15 minutes to party.  Food can be added for adults, as well.
$475 up to 16 people
Additional guests: $16 each
Premium Options:
Extended party time or premium activities available for certain parties / ages.  Call for more information.
Thank you for the most wonderful birthday for our son. He had a fantastic time as well as his friends.
It was creative, organized and so interactive!
Dana
Additional Information
All activities are hands-on and customized for the age of the guests and party theme.
Children under 4 must be accompanied by an adult during the party.
Drop off is recommended for children ages 5 and up.
A deposit of $175 is required to reserve a party date.
You may bring your own dessert, packaged snacks (nut free) and drinks; all other food must be provided by Noggin Builders.
Noggin Builders does not use any foods containing nuts or processed in a facility with nuts
We try our best to accommodate special requests – please ask
Recommended for Ages 3-6 years
Amazing Animals
Go on a safari to learn about some amazing animals. Play games and make crafts themed around the animals that the birthday child picks.  Other animal options include Froggie Fun and Very Hungry Caterpillar themes.
Beyond the Book
Choose your child's favorite storybook and have it come to life with crafts and games!
Construction Crew
Drive a bulldozer through the mud pit, become a wrecking crane or hammer some nails as you join our construction crew!
Diggin' Dinosaurs
Travel back in time for dinosaur fun! Dig for fossils and create your own while exploring
dinosaurs with crafts, games and science.
Under the Sea
Explore creatures from the sea, play the water cycle game, and make a splash with water science experiments.
Recommended for Ages 5-12 years
Super Science
The Birthday Child can choose his/her favorite science experiments to share with the party guests. Everyone  participates in hands-on experiments!
LEGO Adventures
Build your way to fun with this party filled with LEGO bricks!  Create your own LEGO designs and use teamwork in fun games.
Space Explorers
Blast off in this Outer Space Adventure!  We'll rocket from planet to planet with games, science and crafts
Snow & Ice
Gather your friends for the "coolest" party around!  We'll explore snow and ice with science experiments and games.
Pirate Party
Ahoy matey! Gather your crew and join us for a cannon ball blast, treasure hunt, and other pirate themed science and games.
Splat Party!
Smash your egg; squish your slime. Work with your team to protect your egg from a giant fall – will your egg survive? Then make your very own slime to take home. This party is sure to be "smashing"!
Science of Art
Create cool crafts and explore the science that makes it possible!
Gross-ology
Like to get messy? In this party, you'll make slime, oobleck and other gross substances and play with them, too!
Wheels & Wings
Love cars or planes? Pick either one and zoom to a party filled with fun games and science experiments about cars or planes.
Radical Robots (Ages 8 and up)
Have a blast exploring robots with your friends – simulate how robots are controlled y programming your friends, make your own circuits and more in this robot themed party!  Make your own working doorbell (premium activity) – call for pricing.
Wizards and Witches (Ages 8 and up)
Mix up potions, find your wand, explore moving portraits, and visit Honeydukes sweets shop.  Wizards and muggles alike will have a blast at this magical party!
Rockin' Roller Coasters
Explore the science behind thrill rides, discover centripetal motion and G-forces, and create your own working roller coaster designs.
Ages 8 years to Adult
Cupcake Wars (Ages 9 and up)
Teams work together to bake, decorate and present themed cupcakes. Of course everyone's a winner when they eat them!
Top Chef (Ages 10 and up)
Do your friends have what it takes to be Top Chef? Teams work together to create secret recipes and mouth-watering presentations.
Candy Commotion (Ages 8 up)
This "sweet" party is sure to be a hit!  Experiment with sugar, test your teamwork with candy architecture, and play candy themed games.
Amazing STEM Race (Ages 10 up)
Part race, part game show, part STEM – teamwork is the key to this high-energy party!  Create a secret code, build a device to carry a soda can across the room or design a tower that will balance on a ball. Race through challenges to see which team wins the title of STEM Champions!